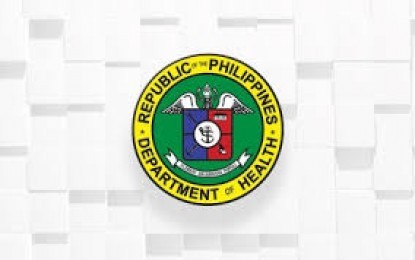 MANILA – The Department of Health (DOH) on Saturday said 16,013 more individuals have recovered from the coronavirus disease 2019 (Covid-19), raising the total to 1,985,337.
The DOH also logged 26,303 more infections, jacking up the active cases to 185,706, the highest single-day tally since the outbreak began in March last year, although 1,608 should have been included in the September 10 data.
"The other 24,695 are actual cases to be reported for September 11. For cases in National Capital Region, of the 9,061 total cases reported today (Saturday), 447 should have been reported for September 10," the DOH statement read.
A total of 79 also died of Covid-19 for an overall count of 34,978.
While some technical issues have been resolved by the Department of Information and Communications (DICT), the DOH said there are Covid-19 data "not yet included" in its COVID-KAYA system and remain unavailable for extraction.
"This has led to some delays in the inclusion of new data for cases, deaths, and recoveries. The DICT is continuing its investigation," it said.
"While we await full resolution of this issue, we may observe some delays in inclusion of some data in our topline numbers in the coming days but we are managing this by generating data from CDRS (Covid-19 Document Repository System) and submitted line lists by our disease reporting units," it added.
COVID-KAYA is the convergent Epidemiological Surveillance system for Covid-19 in all health care and testing facilities and the central repository of all data related to the pandemic response.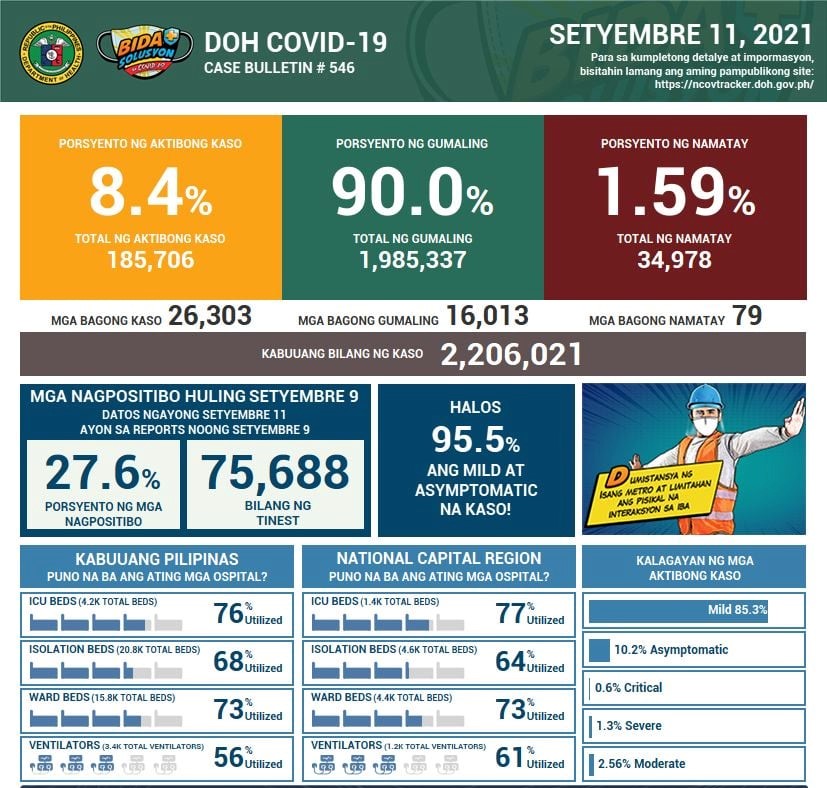 Since the pandemic started, 2,206,021 people have been confirmed infected, 8.4 percent of whom are undergoing treatment, 90 percent have recovered, and 1.59 percent died.
Of the active cases, 85 percent have mild symptoms, 10.2 percent are asymptomatic, 0.6 percent are critical, 1.3 percent are severe, while 2.56 percent are moderate.
The DOH has also released its latest testing data, reporting a positivity rate of 27.6 percent on September 9, with at least 20,889 out of 75,688 individuals positive for SARS-CoV-2.
All laboratories were operational on September 9 but two were not able to submit their data to the CDRS.
The two non-reporting labs contribute about 0.8 percent of samples tested and 1.1 percent of positive individuals based on DOH data in the last 14 days.
Nationwide, the intensive care unit (ICU) utilization rate has reached 76 percent, with at least 3,192 of 4,200 beds dedicated to Covid-19 patients occupied.
Also in use is around 68 percent of the 20,800 isolation beds and 73 percent of the 15,800 wards beds across the country.
In Metro Manila, about 77 percent of 1,400 ICU beds are utilized, as well as 64 percent of 4,600 isolation beds and 73 percent of 4,400 ward beds for Covid-19 cases. (PNA)