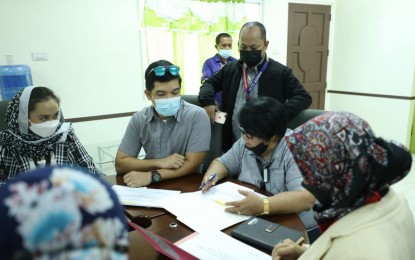 COTABATO CITY – The Bangsamoro Autonomous Region in Muslim Mindanao (BARMM) is set to manage the landside facilities of the Awang Airport in Maguindanao starting October 1.
The Awang Airport, also known as the Cotabato Airport, is a Class 1 domestic airport situated in Barangay Awang, Datu Odin Sinsuat town.
It is currently serving Cotabato City, the provinces of North and South Cotabato, Lanao del Sur, and other neighboring areas.
On Thursday, officials of the Ministry of Transportation and Communications (MOTC), the Bangsamoro Airport Authority (BAA) of MOTC, and the Civil Aviation Authority of the Philippines (CAAP) were set to wrap up a three-day joint inventory assessment of the airport to identify which facilities will be devolved to BAA and which ones will remain under CAAP's supervision.
"The inventory team is here from the CAAP national office for the Oct. 1, 2021 turnover of powers and functions, including facilities, of the landside area of the airport," BAA airport manager Carmencita Salik told reporters in an interview.
She clarified that only the landside operations will be devolved to BARMM under Republic Act (RA) 11054, otherwise known as the Bangsamoro Organic Law, while the airside will remain under the supervision of the CAAP office.
Article 8, Section 37 of RA 11054 provides that "the Bangsamoro government shall have the authority to grant regional franchises, licenses, and permits to land, sea, and air transportation plying routes in the provinces or cities within the Bangsamoro Autonomous Region: Provided, that the National Government shall regulate the airside operations of all existing airports."
The Awang Airport's landside portion includes the terminal building, administration building, concessionaires along with the collection within the airport, and other facilities in between its boundary and boarding gates.
The CAAP, on the other hand, will continue to manage the airport's control tower, navigation system, and the distance measurement equipment of the runway. (PNA)