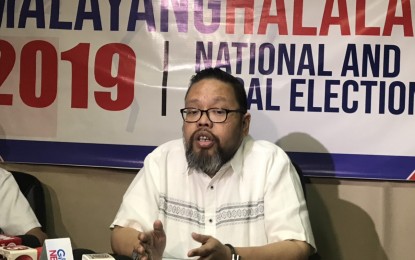 MANILA – The filing of certificates of candidacy (COCs) of national candidates slated next month will no longer be held in Intramuros, Manila, the Commission on Elections (Comelec) said on Wednesday.
Comelec spokesperson James Jimenez said the poll body decided to do away with the traditional filing venue at Comelec's main office for the May 2022 polls due to the coronavirus disease 2019 (Covid-19) pandemic.
"For the filing of COCs, now the thing about the filing of COCs, is that at least on the national level the expectation is that, it's going to be in Intramuros, it's not going to be in Intramuros this year. The reason for that is of course the pressure of the pandemic. We have to make sure that the filing of the COCs doesn't degenerate into a crowded circus as it normally does," he said during the webinar entitled, Pandemic Polls: Election Reporting in the Covid-19 era, initiated by the US embassy in Manila.
For this year, Jimenez said the Comelec decided to look for a bigger place that can accommodate 2,000 people.
"So what we're going to do is to move the venue, we're going to a venue that has a capacity of about 2,000 people and an area of roughly 225' by 93'. It will be a massive hall and it will be dedicated only to the filing of the COCs," he said.
He said candidates particularly for presidential, vice presidential, senatorial and party-list representatives will be allowed to have a certain number of entourage during the filing of COCs.
For those seeking the positions of president and vice president, he said the candidate is only allowed to have three companions.
The size of entourage of senatorial candidates is limited to two while those running as partly-list representative are only allowed to bring one companion.
In a joint congressional oversight committee on the automated election system hearing, Comelec executive director Bartolome Sinocruz Jr. said the filing of COCs will be held at one of the tents of Sofitel hotel in Pasay City.
"The doors will be open, there will be ventilation. That's really a big space to be divided into the venue for filing for president, vice president, and senators and party-list," Sinocruz said.
The filing of COCs for national and local positions will be held from October 1 to 8.
There are a total of 18,180 elective positions at stake in the May 9, 2022 polls. (PNA)