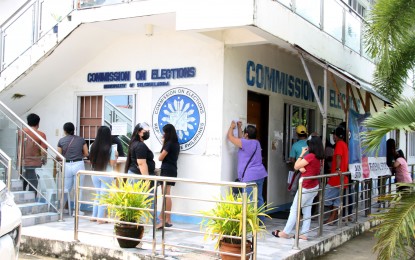 MANILA – The voter registration period, which ends Sept. 30, is likely to be extended following a clamor from various sectors, an official of the Commission on Elections (Comelec) said Tuesday.
Comelec spokesperson James Jimenez said the Commission en banc is set to announce the decision after its scheduled session on Wednesday.
"The matter of extension of voter registration will be taken up by the en banc tomorrow, the 29th of September 2021," he said in a statement. "After consultation with Comelec officials, and in consideration of the public clamor, it is likely that an extension of the period of voter registration will be granted."
Top Comelec officials discussed in a management committee on Monday the clamor to extend the registration period beyond the deadline. After the consultation, the committee had submitted its recommendation to the poll body's seven-man panel.
On Monday night, the House of Representatives and the Senate unanimously approved a measure seeking to extend the voter registration deadline for the May 2022 national and local elections for another 30 days.
With 193 affirmative votes, the chamber approved House Bill 10261, which proposes to fix the last day of registration of voters for the 2022 polls.
The bill was approved unanimously third and final reading by the Senate and House of Representatives.
The Senate has adopted the version of the lower house, extending the registration period for 30 days. (PNA)