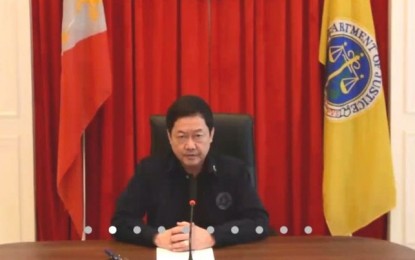 MANILA – Justice Secretary Menardo Guevarra on Wednesday said the Department of Justice (DOJ) will discuss with Philippine National Police (PNP) Chief Gen. Guillermo Eleazar the government's anti-illegal campaign.
This, after President Rodrigo Duterte said in his prerecorded speech at the 76th United Nations General Assembly (UNGA) he has ordered the DOJ and the PNP to review his administration's relentless campaign against illegal drugs.
"We'll sit down with the PNP chief in the next few days to discuss our report as well as the President's directive given at the UN general assembly. We just want to do things the proper way," Guevarra told newsmen.
Duterte, in his speech delivered early Wednesday morning, promised that he would hold accountable anti-drug operatives who will act "beyond bounds."
"His (President Duterte)'s instruction to the DOJ and the PNP to review the conduct of the campaign against illegal drugs, together with the succeeding statement that those found to have acted beyond bounds during operations shall be made accountable before our laws, is a clear directive to pursue with greater vigor the ongoing review of drug death cases and to commence legal actions if found warranted," Guevarra said.
Last month, the DOJ said it has completed its report on the initial 52 cases of law enforcement officers implicated in charges arising from alleged lapses during illegal drug operations.
Guevarra said as of June, 81 criminal cases involving government anti-drug operatives are either pending in courts or undergoing preliminary investigation before the DOJ.
The PNP and Philippine Drug Enforcement Agency have turned over to the DOJ the case folders of about 200 anti-illegal drug operations.
Interior Secretary Eduardo Año said since 2017, a total of 17,142 rogue cops have been subjected to disciplinary actions and sanctions, 906 police officers who were dismissed from the service.
Duterte assured the UNGA that his government's resolve is to protect the Filipino people from the dangers of illegal drugs within the bounds of the law.
"The Filipino people want to live in peace and security in their homes and communities, free from harm and danger from the lawless. But achieving this goal has not been without challenges. I say this in no uncertain terms: The law applies to all," he said.
Duterte also said the Philippines and the UN's recent signing of a three-year joint program on human rights is a "model for constructive engagement" between the two parties.
Under the program, the Philippines and the UN will engage in capacity-building and technical cooperation for the promotion and protection of human rights.
The program also aims to strengthen the investigations and filing of appropriate administrative or criminal charges on violations of human rights, as well as to provide treatment and care services for drug personalities. (PNA)