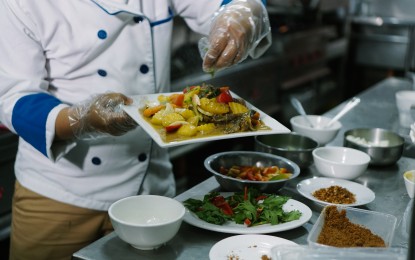 MANILA – Several government agencies have partnered to boost the promotion of Filipino culinary traditions in the years to come through a memorandum of understanding (MOU) signed Wednesday.
Through the MOU, the Department of Tourism (DOT), together with the Department of Agriculture (DA), National Commission for Culture and the Arts (NCCA), and the Philippine Culinary Heritage Movement (PCHM) will drive up appreciation and preservation of Filipino culinary traditions to ensure transmission to future generations.
The DOT said the document would also infuse food tourism in the country's annual celebration of Filipino food every April and support food tourism stakeholders such as farmers and agri-communities.
"As we look forward to every annual celebration of Filipino Food Month, we would like to use this as a platform to promote travel for a taste of a place in order to get a sense of a place," Tourism chief Bernadette Romulo-Puyat said in her opening remarks during the virtual signing ceremony.
A DA-NCCA-DOT-PCHM Technical Working Group (TWG) shall be formed and will conduct quarterly meetings to ensure the smooth implementation of the activities and responsibilities enclosed in the MOU.
DOT, specifically, will be tasked to include its food and gastronomy tourism-related activities in the calendar of events for the Filipino Food Month and to provide support through information dissemination.
Romulo-Puyat said the DOT fully supports the initiative, underscoring the immense potential of Filipino food in tourism prior to the pandemic.
"Our own internal studies in the DOT have revealed that prior to the pandemic in 2019, inbound tourists spent 22.4 percent of their total expenditures on food and beverage items. For domestic tourists, 8 percent was devoted to F&B expenses and a big chunk of shopping expenses were also spent on foodie treats," she said.
The official said the DOT had been harnessing the potentials of food tourism by formulating regional tourism circuits with food and farm experiences as the centerpiece of itineraries.
She said the DOT is also conducting food tourism resource inventories and mapping of key food tourism destinations in the country, including facilitating capacity-building programs to equip community stakeholders.
"As we shine the spotlight on our diverse culinary heritage and our agricultural producers, let us also experience the fun of food tripping in the Philippines," she said. (PNA)