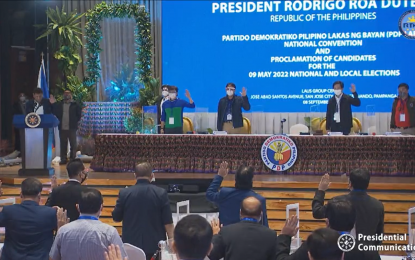 MANILA – President Rodrigo Duterte on Wednesday formally accepted his nomination as the official vice presidential candidate of the ruling party, the Partido Demokratiko Pilipino-Lakas ng Bayan (PDP-Laban), to ensure the "continuity" of his efforts to bring progress to the country.
During the PDP-Laban's national convention and proclamation of its candidates for the 2022 national and local elections, Duterte thanked his party mates for their "continued trust and confidence" in his leadership and for picking him as the party's vice presidential candidate.
"No words can express my gratitude for your continued trust and confidence in my leadership and for nominating me as the party's official vice presidential candidate in the 2022 elections," Duterte said in his keynote speech delivered in San Fernando, Pampanga.
Duterte also wiped his tears, as he expressed his intent to continue serving the country after his presidency ends in June next year.
He said he would be gunning for vice presidency to make sure that his administration's efforts to eradicate illegal drugs, terrorism, and corruption in government would continue to bear fruit beyond his six-year term.
"Alam mo kung bakit ako tatakbo ng vice presidency (Do you know why I will seek the vice presidency)? Is it ambition? Maybe. But is it really a sense of love of country? Yes. Is it really because I want to see the continuity of my efforts even though I may not be the one giving the direction. Baka makatulong lang ako (I hope I can help)," Duterte said.
Duterte expressed hope that Filipino voters would let him serve them again by electing him next year as the country's second top official.
"I am hopeful that this will allow me to continue serving the Filipino people and lead the entire nation towards greater progress," he said.
Achieve 'genuine, lasting' prosperity
The PDP-Laban formally endorsed Duterte as its vice presidential candidate during its national assembly in Pampanga.
Apart from Duterte, the PDP-Laban also announced that its official presidential candidate is Senator Christopher Lawrence Go.
The party also proclaimed Labor Secretary Silvestre Bello III, Chief Presidential Legal Counsel Salvador Panelo, Transport Secretary Arthur Tugade, and Leyte Rep. Lucy Torres-Gomez as its official senatorial candidates.
Its guest senatorial candidates include Presidential Spokesperson Harry Roque, Public Works Secretary Mark Villar, Presidential Anti-Corruption Commission chairperson Greco Belgica, and House Deputy Speaker Rodante Marcoleta.
Duterte called on the newly-proclaimed candidates of the PDP-Laban for next year's elections to seek "genuine and lasting prosperity" for the country.
"Let me congratulate the party's official candidates for the 2022 national and local elections. I trust that you will duly prepare for your future responsibilities as elected public officials. Regardless of the election results and even beyond the election period, I expect you to uphold the party's principles and aspirations," he said.
Duterte also encouraged them to stay united and focus on improving the quality of life of every Filipino, especially amid the coronavirus disease 2019 (Covid-19) pandemic.
He likewise told them to disregard the political noise and just focus on serving the public.
"Let us not be hindered by those who only seek personal political gain and instead realign ourselves with the party's objectives," Duterte said. "I am confident that with a strong resolve and solidarity we'll once again claim victory in the upcoming elections." (PNA)