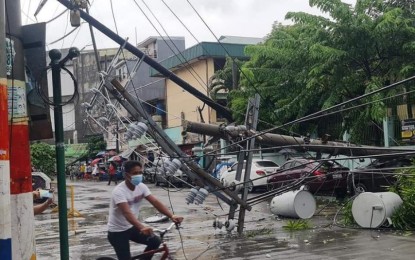 MANILA – The Department of Energy (DOE) said Wednesday Typhoon Jolina has caused power interruptions in the southern part of Luzon and Samar.
"(T)here are four transmission lines that are unavailable in Samar and Laguna affecting ESAMELCO (Eastern Samar Electric Cooperative, Inc.), SAMELCO I (Samar I Electric Cooperative, Inc.) and BATELEC II (Batangas II Electric Cooperative, Inc.)," the DOE said in a bulletin.
A 230-kilovolt (kV) line in Batangas was also unavailable as of 1 p.m. Wednesday, DOE added.
But the DOE assured there is enough power supply.
Available power capacity in the Luzon grid is at 12,370 megawatts (MW) while demand is at 9,383 MW. 
The Visayas grid has a supply of 2,636 MW and a peak demand of 1,867 MW.
The power outages are mainly caused by the weather disturbances over Luzon and Visayas.
In a social media post of Allen See, an electric post in Gagalangin in Tondo, Manila was down Wednesday afternoon.
Due to the destruction, Pampanga St. is not passable to motorists.
Meanwhile, some 270,000 customers of Manila Electric Co. (Meralco) in the southern part of Luzon were affected by power outages due to "Jolina."
"Our crews will continue to work 24/7 in order to restore power at the soonest possible time," Meralco vice president for communications Joe Zaldarriaga said.
He said the majority of the affected customers are in Meralco's franchise areas in Batangas, Laguna, and Cavite.
Zaldarriaga added there was an automatic load dropping (ALD) that lasted for 11 minutes Wednesday morning due to tripping of the National Grid Corporation of the Philippines' (NGCP) Batangas-Makban line that affected 500,000 customers.
Due to the grid line's tripping, the 730-megawatt capacity of San Lorenzo, San Gabriel, and Avion power plants was isolated, he added. (PNA)