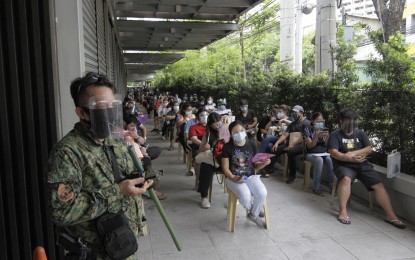 MANILA – Philippine National Police (PNP) chief, Gen. Guillermo Eleazar, on Wednesday ordered all police offices and units to prepare to ensure the vaccination of the general population, including minors, will be done in an "orderly manner".
This, after President Rodrigo Duterte has approved the recommendation of vaccine czar Carlito Galvez Jr. to start inoculating the general population beginning October to ramp up the government's fight against the coronavirus disease 2019 (Covid-19).
"Deployment of police units is to ensure that vaccinations will be done in proper and orderly manner," he said in a statement.
Eleazar said they are also looking for more PNP personnel who have medical backgrounds and training who can assist in the government's vaccination campaign.
He earlier committed the PNP's Medical Reserve Force to assist in taking care of Covid-19 patients due to the shortage of medical facilities and health workers amid the high Covid-19 infections.
Eleazar also offered police camps and other facilities for the vaccination of the dependents of the PNP personnel, particularly those between 12 years old to 17 years old, to decongest the vaccination sites of the local government units.
He also directed police offices to coordinate with the local government units on the schedule of the vaccination of the general population. (PNA)