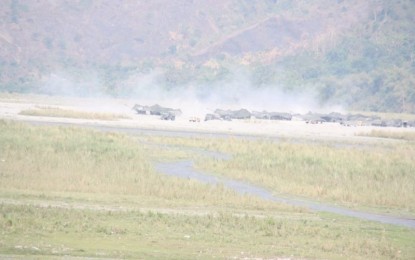 MANILA – President Rodrigo Duterte has directed the National Housing Authority (NHA) to relocate the indigenous peoples (IP) communities residing within the Crow Valley in Capas, Tarlac.
In his taped Talk to the People delivered Thursday night but aired Friday morning, Duterte told NHA General Manager Marcelino Escalada Jr. to ensure that IPs will be given decent houses that are "far" from the Crow Valley.
"I have a problem somewhere in Tarlac. Ito 'yung mga IP na within military area na adto, may mga IP diyan, about 300 plus something (There are about over 300 IPs within the military area). Kinakailangan kong irelocate (I need to relocate them) because the military is telling them to get out of the area. At gusto kong mabigyan at least ng magandang pabahay (I want to give them a nice housing)," Duterte said.
Crow Valley, also known as the Col. Ernesto Ravina Air Base, is a 17,814-hectare land that is under the control of the Philippine Air Force (PAF) and used for bombing and gunnery exercises.
The base also hosts the PAF's special operations unit 710th Special Operations Wing (SPOW).
Members of the Aeta tribe, however, have pending ancestral domain claim over the area.
Escalada told Duterte that he had allocated roughly PHP80 million for the relocation of IP communities in Crow Valley.
He, however, said it was difficult to convince the local government unit (LGU) and Aeta leaders to move the IP communities to a safer place that is far from the shooting range.
"Apparently, the LGU, as well as some IP leaders, gusto nila, doon pa rin (they want to stay there)," Escalada said.
He, nevertheless, said he had asked the National Commission on Indigenous Peoples (NCIP) and the 710th SPOW to decide whether Aeta tribes will be transferred "either outside the impact area and outside the military reservation or somewhere nearer but still within the military reservation which is of less risk on their part."
Duterte, however, said the IP communities must be moved out of Crow Valley.
"If the real problem is they have to be out of the fire range being used for military exercises, there should be cannons there and it must be far enough from the madding crowd, ika nga, Hindi sila puwedeng magbigay ng ano na hindi sila aalis doon (then they could not insist that they would not leave there)," he said.
Duterte said staying within the Crow Valley might only put the Aeta members in jeopardy.
"That's not good there. Sabihin mo sa kanila umalis sila at bigyan natin ng bahay (Tell them to leave the place and we will give them free housing)," Duterte said.
Escalada said he would hold a meeting with LGUs, Aeta leaders, and 710th SPOW next week to relay Duterte's message. (PNA)