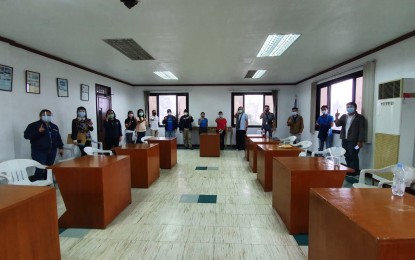 PILAR, Bataan – The Mt. Samat Flagship Tourism Enterprise Zone (FTEZ) on Tuesday announced plans to improve the overall telecommunication services at the Shrine of Valor in the historic mountain here with the rollout of its network transformation program.
In an interview, Mt. Samat FTEZ administrator Francis Theodore Initorio said the new telecommunication infrastructure projects will be implemented in partnership with the provincial government of Bataan, municipality of Pilar, Philippine Veterans Affairs Office (PVAO), Globe Telecom, Smart Communications, and the Department of Information and Communications Technology (DICT).
In line with the mandate of the national government to promote the sustainable development of tourist spots in the country, especially the cultural and heritage sites, the Mt. Samat Shrine of Valor was officially designated as FTEZ on Feb. 27, 2017 through the Tourism Infrastructure and Enterprise Zone Authority (TIEZA).
It also resulted from the inter-agency partnership of the TIEZA, the provincial government of Bataan, the municipal government of Pilar, and the PVAO.
"The safe and open space in the Shrine of Valor made tourists become more eager to visit the historical site in this time of the pandemic. The Mt. Samat FTEZ, along with its partners and stakeholders, would want to provide faster connectivity in the Shrine once the situation allows us to open the site to tourists anew," Initorio said after a meeting of the stakeholders.
The network improvement program includes the construction of a Globe Telecom cell site at the shrine, provision of free Wi-Fi by the DICT and the enhancement of data signals through the boosters of Smart Communications.
Initorio said the construction of a new cell site is part of the PHP1-billion investment of Globe Telecom in Bataan, along with its partnership with the provincial government. The Mt. Samat tower will be among the new 74 cell sites that Globe will construct in the province.
To formalize the partnership, Globe also conducted a series of discussions and consultations with the Mt. Samat FTEZ and PVAO, he said.
The Mt. Samat FTEZ and PVAO are currently in discussion with Smart Communications to formalize their partnership for the provision of signal boosters in the tourism zone.
The DICT, Initorio said, also recently approved the request of the Mt. Samat FTEZ to provide facilities for free Wi-Fi at the Shrine of Valor that will complement the project of Globe and Smart in the area.
Through the network enhancement program, the Mt. Samat FTEZ aims to provide better experiences to the tourists visiting the shrine and to further boost the social media promotion programs of the tourism zone, Initorio added. (PNA)