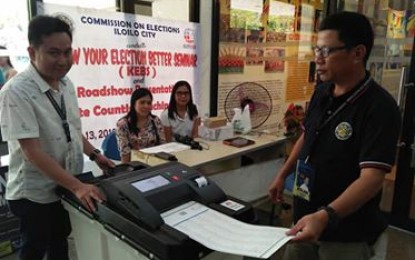 MANILA – Voters who will exhibit coronavirus disease 2019 (Covid-19) symptoms on election day next year will not be turned away.
Instead, the Commission on Elections (Comelec) said they will be escorted to isolation polling places (IPP) in the voting centers where they can cast their ballots.
"We wish to reassure (Department of Health) Undersecretary Maria Rosario Vergeire that the Comelec is fully cognizant of the risks, both to the patient and the public, associated with making a Covid positive person go out to vote. This being so, the idea of requiring such persons to leave their isolation facilities was never really on the table. This misapprehension may have simply arisen from statements made by Comelec to the effect that isolation polling places are being prepared," Comelec spokesperson James Jimenez said in a statement on Friday.
Voters with symptoms on electon day itself, according to Jimenez, should be allowed to exercise their rights even if they are suspected to be potential Covid-19 cases.
"They will be directed to IPP where they can vote away from the general public, with all the necessary precautions appropriate to their health condition," he added.
He reiterated that the isolation centers are not intended for those already confirmed infected and who should be under quarantine.
As for the suggestion to explore other means of voting for Covid patients such as virtual or through SMS (short message service), Jimenez said the alternative means of voting "are not authorized by law and will not be employed on 9 May 2022".
Vergeire earlier broached the idea of other means of voting, aside from physically going to poll precincts, due to pandemic considerations. (PNA)